Posts Tagged 'Miss Kai'
October 17, 2010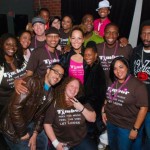 LES FEMMES FATALE
Around the room, African Queens draped in pink-except for the big breasted which were reduced to wearing brown tees- displayed staunch allegiance to fight breast cancer. Every shade of pink from neon, traditional, to faded and every pink pattern from solids, stripes to polka-dots were within view. If one was without the night's monochromatic theme of hot pink Tambor tees for the Queens and brown Tambor tees for the King's they were available for purchase in the dining section of the club with all proceeds going to a breast cancer awareness organization. The room dressed with modest pinks and browns for a common cause displayed a unified vision of all tribesters dressed in one accord awaiting Tambor's femme fatale.
This was Tambor's first all female DJ line-up to aid the fight against breast cancer. Earlier, the first femme fatale, Miss Kai from Capital City decked in pink and green from head to toe, smoked the room with broken beat, deep house and full on house sounds. Miss Kai's unique blend of genre hopping caused the early birds to work up a sweet sweat before the night's main event and special guest talent.
At last the goddess stood at least six feet plus in pumps that allowed her to hover over the crowd like a spiritual deity. In another life she could have easily been a top model but tonight she was an ass- kicking superhero about to beat the shit out of breast cancer. Her six foot frame half covered by a hot pink Tambor tee and blue denim with magical golden locks free and natural protruding from a perfectly squared face with soft doe eyes marked her arrival behind the DJ table. Mrs. Anane Vega was ready to wreak havoc and tear up the room with dirty tribal beats. Anane attacked like some comic book karate assassin with deadly kicks backed by deadly arm thrusts. She was a musical black belt; a singer, songwriter, songstress, DJ and music producer all rolled up in one that possessed unprecedented beauty only reserved for gods and goddesses. There was no stopping this Femme Fatale except for the brief second the music stopped due to technical difficulties (oops). Even then she picked up right where she left off- kicking ass musical style. She was out to leave not one soul unscathed by her musical fury. She wouldn't stop till everyone in the room was transported to African dressed in loin clothes.
All was under her spell of majestic beauty and tribal assault. In the room the women lost their minds to their fearless musical leader and the men lost their minds beholding such beauty. Never had the tribesters witnessed a goddess from the islands off South Africa kicking ass with splendor.
Anane jacked the room with stellar beats and the occassional vocals. Some time during the heavy bass hitting night, a female's vocal appeared from nowhere singing, "Give It 2 U." It was the voice of uber-diva, Ultra Nate flawlessly fluttering over an orchestra laden Quentin Harris house production with no effort. Without notice, low chants of, "Oh man, Oh man," echoed throughout the building. The male vocals seemed to rise from the ground as haunting ghosts taking everyone by surprise. It was Black Coffee's, "JuJu" the percussion driven re-edit equipped with finger snaps that sent the tribesters into pandemonium. However, not to be outdone, Anane dropped the vocal killer, "Plastic People" the first single off her debut composition. The deep house tune with penned lyrics, "Plastic People/I See Thru Your Evil" illustrated the hearts of haters with evil intentions to do the innocent wrong.
Evidently, Anane the night's main attraction felt relief after her "Afro-Tech" set soaked with heavy beats and tech effects took to the floor to dance during the night's closing number-a song from another native West Coast African islander. Anane two-stepped in circles with several loyal tribesters that were all greeted with pearly smiles and hearty hugs as the song concluded. Everyone seemed especially happy to be embraced by the glamazon from the land afar. Thank God she was not aloof but possessing grace and humility not the kind of attitude one would expect from a musical ass-kicking femme fatale.
That night, breast cancer got the shit knocked out of it. Unable to stand, the ailment fled the room in an embarrassing defeat. Take that. Once again, Tambor won the battle. This time with help from Les Femme Fatale. The End.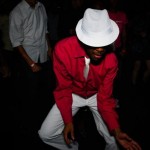 Photography by Carlos J. Bell
Video by Ari Johnson/courtesy of Stan Zeff