Archive for December 24, 2011
December 24, 2011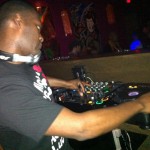 JULIUS THE MAD THINKER
The Dharma Lounge sits quietly on the South End of the quaint but bustling Camden district of storefronts and businesses in Queen City, North Carolina. Entering the front door along the narrow hallway to pay homage at the front counter leaves a feeling of mild curiosity until one rounds the corner to find…..a path that leads to enlightened nightlife. The 3,000 square foot venue contains eye popping hues of fiery oranges, deep reds and majestic gold. First glance around the playful interior reveals eclectic abstract greens, blues and gold of Asian inspired artwork-think Picasso meets the far east-that hang on fiery orange walls. The room gives off a warmth of tranquility that illuminates the natural environment as fresh organic aromas play in the air. Except for Blaze's, "Found Love" (Shrine Vocal) blazing from the clear crisp sound system the healing oasis could double for a yoga class. By the way free yoga classes are held on Tuesday evenings. Another survey throughout the global bazaar reveals three cabanas-one keeping company on the side wall and the other two on the room's back wall-with mahogany beams wrapped in vibrant orange drapes that flow to royal purple linen covered beds that entertain brilliantly colored Indian saris of red, orange and gold relaxing in total Zen. Each cabana contains its own decorative mahogany table with a golden mini-Buddha bathing in the soft glow of candles. Along the room's side wall are additional relaxing comforts of contemporary crème leather sofas sitting underneath the soft glow hue of orange lamps. Adjacent the crème sofas is the DJ booth-a rectangular shape that resembles a tree with branches sprouting upward against the backdrop of a burning flame provided by again fiery orange hues. The spacious booth sits four feet off ground in front of bamboo sticks that line the tango tangerine walls lit by ceiling lights which seem to shine down from the heavens. A state of the art light system hangs from a tapestry of natural crossbeams that resembles a steel beam suspension bridge. The beams intersect each other and travel the ceiling in every direction to form an impressive shadow of lines on the dance floor below. Travel the opposite wall, across from the burning DJ booth and you will find the Buddha Bar set ablaze too with flames and surrounded by mahogany barstools. However, this is not your daddy's average watering hole as it contains the centerpiece of the bar and perhaps the centerpiece of the entire room, an oversized golden Buddha sitting behind the bar wearing headphones. Talk about an ancient deity grooving to contemporary sounds. On the other hand, for the dancers the room's centerpiece is the wooden dance floor positioned dead smack center of the room. The floor large enough to house a gathering of foot soldiers and a small army of dancers is just right. After Kings of Tomorrow featuring April's, "I Need To Love Me" plays and as Magnetic Man's, "Getting Nowhere" (Yoruba Soul Mix) with R'n'B crooner John Legend on vocals cues up on the mixer the heated outdoor patio is discovered. Round tables grace the deck along with walnut patio furniture equipped with orange cushions that sit alongside a wooden fence with two fire burning furnace tables. Word to the wise, "Please be careful with the alcohol."
Dharma in Buddhist scriptures can take on a variety of meanings from phenomenon, nature, or characteristic; including but not limited too, source of things and truth. For the sake of this experience let's snatch Dharma from its path of an enlightened night life to a phenomenon as this night was nothing short of such. To define a phenomenon means looking at the word's second and third definitions which include; 2) something that is impressive or extraordinary; 3) a remarkable or exceptional person, prodigy or wonder.*
Chicago's own, Julius The Mad Thinker embodies the very meaning of phenomenon. The 3Degrees co-founder is the very instrument of the music he plays and produces. In order to understand, let us dive deeper into the phenomenal waters of The Mad Thinker's world. It's a world of spiritual and uplifting music. A journey of rollercoaster beats that play soft and deep and then rush into a mad fury of fast meets hard. From Big Band swing to funky house, from afro-beat to Latin house, the beats never stop or disappoint. The beats originate from South Africa's Capetown to America's Chicago, from London's underground to San Francisco's bay and everywhere else in between.
On this phenomenal night there is no opening DJ to be seen with no opening musical set to be heard, just four straight-hours of The Mad Thinker's mindset. Right from the start, Julius wastes no time by bringing his A+ game with choice cuts from Atlanta's KemeticJust's, "I've Got Life" (DJ Spinna Galatic Mix) which set the lifeless dance floor ablaze with tweaks and bass drops to old-school Gladys Knight & The Pip's, "I've Got To Use My Imagination" (Timmy Regisford & Quentin Harris Mix) that gathers people from the bar and the outdoors patio to the ever burgeoning dance floor. Feet began to sway and hips gyrate as the party is off to a spectacular start. Chicago song master, Peven Everett with "Burning Hot" (Timmy Regisford & Adam Rios Mix) keeps the cold winter's night hot as U.K. soul sensation Shaun Escoffery's, "Days Like This" (DJ Spinna & Tickla Mix) perches the sun into the night. Cheers of approval swarm the room from the cabanas on the back wall to the front DJ booth on the front wall as people proudly sing, "I Love The Sun."
As the crowd steadily grows, Julius' musical concoction becomes a "Top Songs of the Year" playlist. The party's heavy hitters come from the year's brightest anthems and largest house music producers. Front and center sits Soundgarden's, "Black Hole Sun" (MasterKev & Tony Loreto Mix) that provides the alternative vibe for the affair. Big beats come courtesy of Joey Negro's and Gramaphonzie's, "No Sugar" with Shea Soul on sampled vocals. Trumpets shout and horns scream as swing house rushes into action to electrify happy-dancing feet. As if on cue, dancers stand upside down on hands and their knees slide onto the floor to spin in circles. This is dancing at best.
Wait! What's this? The music stops. A pause ensues for two short seconds. Then a four-count thump penetrates the atmosphere. An echo heard in the distance sings, "I Was At The Club." With arms raised in the air and screams out of the mouths of hungry babes the house heads go bedlam; real bedlam. Its Timmy Regisford's with Lynn Lockamy's vocals on "At The Club" remixed by Rocco that drives the music into hard progressive house territory that sends Dharma into the next stratosphere. Yet, another surprise is heard from the sleeper of the year, "Idiosyncrasy" by Yoruba priest Osunlade. The auto-tuned spoken rap drenches the room in chaotic dance. Talk about disturbing the Zen. South Africa shows up and shows out with-two of the top deep house songs of the year-Black Coffee's featuring Hugh Masekela's, "We Are One" and Zakes Bantwini's, "Wasting My Time" (Black Coffee Original Club Mix) destroying the room with deep soul. From there last year's number one anthem storms the room, a deep house ballad from Black Coffee titled, "Superman" that slows the vibe down and has the crowd singing, "Will You Be My Superman?"
There comes a point when The Mad Thinker goes deep, so deep that the music's rhythms became healing waters of ointment. Got a cold? Got lower back muscle spasms? Poof! Be gone. Just ask and you shall receive. The mind, body and heart become immersed in the deep subconscious of dance and deep beats. Literally folks, people lose their minds. The beats become so muddled and vocals so undistinguished that consciousness becomes an abstract thought. Was this Prince singing over a deep house remix treatment? Or someone else?
Not long there after, a funky beat rides deep as House Music vocalist king, Kenny Bobien's falsetto floats flawlessly and sings, "Don't Be Afraid" (MasterKev and Tony Loreto Deeper Vocal) a 10:45 extravaganza filled with swirling keys climaxing to a dizzying finish. Julius the instrument tweaks the synthesizer's highs and drops the bass to deliver an even deeper experience. Next up, songstress Monique Bingham with, "You, Me, World" (Jon Cutler Distant Music Mix) brings smiles to faces.
Julius has the ability to take your not so favorite song and turn it into your favorite anthem by playing songs like they've never been played before. Being the instrument of music, Julius eschews every rhythm played. From the top of his buzz-cut head to the rubber soles of his sneakers, he becomes a vessel of the music. At times his body bobs and weaves with syncopated bursts of energy. Then he moves about with staccato jabs and at other times with fluid movements like ocean waves. With his body turned to the left his head uncontrollably falls backwards to speak the language of his love-music. No bone in his body is able to escape the grasp of rhythm's hold. Even his fingers absorb the melodies of life. The mixer's control knobs violently spin and the crossfader slams from side to side to allow the treble to run to the forefront and the bass lines to disappear in the background and drop on key counts that shatter the room.
The night's other musical standouts include a marching band thumping drums, clashing cymbals and blasting horns before transforming into the Elements of Life with Louie Vega's wife Anane on vocals singing, "One Dream" the Big Game Mix which opened the 2007 Super Bowl. After that rousing round of Latin house, Josh Milan's, "Your Body" (Louie Vega Eol Mix) and Nathan Adams with Zepherin Saint's, "Holding On" (Timmy Regisford & Adam Rios Mix) keep the deep house afloat. It is Trina Broussard's, "Joy" (Quentin Harris Mix) that brings down the house with its uplifting heartfelt appeal. Additional positive lyrics ensue from Lady Alma & The Rainmakers' on "Let It Fall." With lyics as "Trouble Don't Last Always/Let It Rain" the club transforms into church. Baseball caps swing through the air, hands wave in the air and shouts of praise are heard.
Rounding out the dynamic set are U.K. soulstirs, Ben Westbeech's, "Something For The Weekend" (Joey Negro Z Mix) that brings a smooth groove to the dance floor as 1990's superstar Jamiroquai, "Just Dance" chops up the smooth groove with a broken beat mix.
By night's end a sizable and diverse mixture of minds had gathered-including two drunk girls that fell smack down on the dance floor. Several diehard house heads trekked from Raleigh, NC, Sumter, South Carolina and even Atlanta, GA. The bodies in motion were more than pleased to have taken the journey along the path of the enlightened with The Mad Thinker. Thanks Dharma and Julius for a phenomenal night of music and dance.
*Definitions of Dharma and phenomenon are provided by Dictionary.com.
Photography by Siouxanna Gomez
December 17, 2011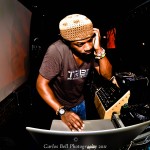 Zepherin Saint
Family Affair
In four months much can happen to a family. Some move away, be it to the east coast or west coast, others become mothers that welcome new life into the world while others move on in life to explore new paths. But then there's the tried and true, the familiar faces that won't ever leave but will always offer their fervent support. Someone once stated, "It's the people that make Tambor." That sentiment rings true when you haven't seen your Tambor family in more than three months.
Thankfully, on the night of Tambor's eagerly awaited return, the family was everywhere. Familiar faces greeted you as soon as you walked up the ramp to the venue's main front door, into the building, around the main room, center at front stage, on the DJ stage and upstairs in the VIP area. There were the family members already in mid-dance on the dance floor. There were the family members posing with smiles for snapshots in the middle of the dance floor. There were the out of town (country) family members that traveled as far away as Tennessee and Toronto. There were the drunken cousins and of course the cannabis stimulated relatives. There were the female models working the room. (You go girls) There were the family members wearing wigs that had not been seen at Tambor in ages. There were the Dominicans partying upstairs VIP style. There were the family members celebrating birthdays, flossing money pinned on clothes while others anxiously accepted cards and various gifts. There were the fellow house dancers dancing in crop circles weaving underneath and around each others bodies. There was the Atlanta House Dancer family member asleep with head down on table and all. (Boooooo) A family member stood at the coat storage by the DJ stage and collected coats for a three dollar fee. There was a buzz and swirl of activity as the wait staff swooshed about taking orders and keeping cocktail glasses refreshed. The bar was packed tight with family waving dollars to get the bartender's attention for another round of drinks. As a result, the bathroom saw a steady stream of activity and business from family, be it powdering faces or tightening belt buckles. There were the family members capturing special moments using expensive photographic and high-tech video cameras. There was the family of audio technicians and visual technicians that made sure the BOZARK sound system sounded crisp and the visuals beamed bright. There were the family of DJ's from all circles and the vocalists of all genres that showed up to smile, shake hands and exchange hugs. Even the night's special guest DJ from across the pond, Zepherin Saint of Tribe Records UK having played at Tambor twice before was family and not to mention the brother of resident Tambor founder DJ Stan Zeff. Yes, family was everywhere and there was nowhere to hide from familiar eyes.
For his third visit to Tambor, Zepherin Saint pitched the BPM up and dropped two heavy hitting house beats reminiscent of that London house vibe. The soul-drenched set consisted of uplifting lyrics, afro-house, straight in your face club bangers and live keys played by Brother Yoel Ben Yehuda. After the barrage of afro-deepness Zepherin Saint launched into a vocal cavalcade. Notables included the Tribe Records UK release, "Bang The Drums" with Sister Pearl on vocals that received a warm applause. Jovann's remix of Mary J. Blige's, "Just Fine" had the crowd singing, "Oooh." With brother Stan Zeff on stage working the sound a bouncy dub of Quentin Harris', "My Joy" (Sean McCabe Melidious Dub) with Margaret Grace's voice plastered the room. A 2010 remake of Roy Davis Junior's classic with Peven Everett on vocals, "Gabrielle" (Qualifide Remix) by Emkyu now with DDB on vocals was on tap, followed by a Peven Everett original, "Can't Do Without" the song that had people saying, "Your Honor/I Ain't Supposed To Be Here." Next came Sarah Devine's uplifting spectacular, "Special" that brought tears of joy. If that weren't enough Chicago's own songstress Dajae screamed, "Brighter Days." Black Coffee's, "We Are One" kept the crowd unified. Also, keeping on the South African house vibe, Culoe De Song's remix of Goldfish's, "Call Me" became the year's combustible anthem. Previous Tambor guest DJ, Osunlade's Summer Suite Remix of Jazztronik's, "Dentro Mi Alma" played for two verses as if to announce last call and note that the party would soon end. Concluding on a high note, once again, Culoe De Song rode to the rescue with his instrumental tribal epic, "The Bright Forest" that played with house lights on to the fullest as dancers spun in circles, walked on knees and screamed for joy. But the tune of the night came from an unreleased remix of Bucie's, "Get Over It." The princess of house sung over a hissing hi-hat, snaking snares, a pitched up four-count and live keys from a Nord keyboard that made for dance floor bliss.
Two words summed up Tambor's holiday party-Family Affair. On display from Zepherin Saint to each attendee was a woven tapestry of brotherly and sisterly love seeping from the depths of the human heart. No matter their ethnicity, color, gender, sex, stature or social class the family trekked from lands near and far; to assemble peacefully, setting aside differences and to celebrate FAMILY through the marriage of music and dance.
Happy Holidays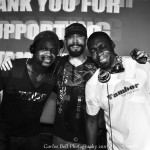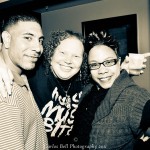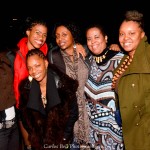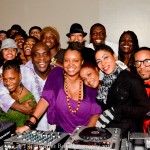 Photographs by Carlos Bell
December 9, 2011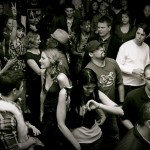 MARK FARINA
Outdoors in the cold night's air, the crisp breathe of old man winter kissed the dark sky decorated with twinkling stars. On the corner of 13th and Peachtree Walk sat a cozy little nook-the lounge that resembled the gingerbread house from fabled fairytales of old. From its chimney smoke piped into the cool clear air while four count beats marched outdoors onto the empty city streets.
Inside the heated nook equipped with a fireplace tucked neatly off to the side, its interior screamed, "Happy Holidays!" A lighted Christmas tree sat in a corner of the foyer as holey snaked its way around shelves and techno colored snowflakes danced on a wall right above the bar. But the establishment's best display lied right through the club's backdoor; a well lit, spacious and heated patio with surround sound that entertained several tables, several chairs and one cocktail bar. For all you conversation-ist, smoke-puffers and standing models this was the place to be and see. Once the fresh oxygen of the impressive patio was inhaled, several employees in black "staff" shirts gearing up for the night's activities were followed back indoors into the lounge area. In plain view sat a handful of guests on bar stools at the empty bar while two patrons graced the tables inside the club. One empty roped-off VIP table way too small for more than two guests sat lonely in a dead end corner adjacent the bar. From time to time a few stragglers struggled into the lounge, conversing on smart phones while ordering drinks far too busy to notice the serene surroundings. Of course, this was due to change as the night progressed. For the night was young; still in its birth of infancy for the massive crowd that would later form and soak the room's funk filled energy from none other; DJ Mark Farina.
Up above in the space-challenged DJ booth, situated approximately six feet off the ground, the night's first party-starter, DJ Sublime A.K.A. Jory Johnson wasted no time warming up the musical 1's and 2's. Sublime played a brilliant spectrum of mind bending genres from soulful house to 1980's soul with beats per minute slowed down to a safe groove. One stand out, Kerri Chandler's featuring Treasa "Diva" Fennie's, "Heal My Heart" shined brightly on a dark night. With lyrics, "Heal My Heart/Ease My Pain/Give Me The Strength/To Love Again" the song's message of healing hope to love again was much needed.
Soon, Atlanta's Lil Steven hopped on board and bought a bangin' dub of Moloko's 1999 classic, "Sing It Back" that brought the ever growing crowd to its feet. Cheers!
Next up, 4Deep's DJC went hard with heavy beats from the likes of a swinging dub of Joey Negro's featuring Shea Soul's, "No Sugar." "Don't Get Me Mad/You'll Get No Sugar" soared through the ears of the crowd. With in your face lyrics that tell the truth the crowd should take caution of their actions.
Finally, the night's headliner arrived. Short in stature but sweet in spirit, west coast house music pioneer, mid-west born and bred, Mark Farina autographed posters and vinyl sleeves and posed for pictures with various subjects all the while maintaining an amiable smile. This is what house music is all about having the down-to-earth heart of sharing your gifts (music) and talent (mixing skills) with the world and the ones you love.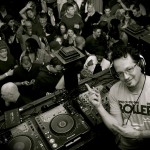 Photography by Lil Steven. Used by permission.