Archive for September 5, 2011
September 5, 2011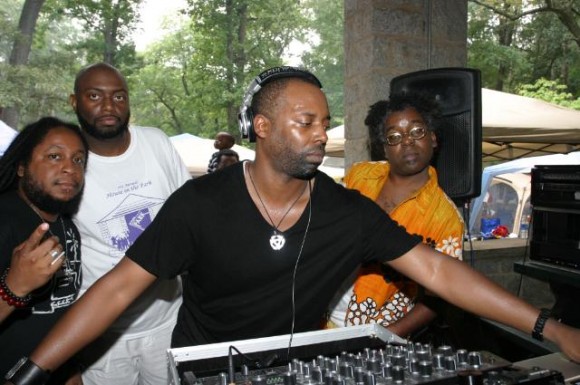 HOUSE IN THE PARK 7
8:30 am
Stretched back as far as the naked eye could see, tan tents and colorful canopies tripped alongside lush green hues perched next to the pebbled brook stream gently trickling in tranquility unaware of the bustling activity taking place around its soft aquatic voice. Boisterous SUVs bullied and bellowed their way into parking spaces along the down-slope descent of the park's main drive, ready to be unloaded of goods, equipment and foods. There was a mid-sized white and orange U-Haul truck docked and parked at the pavilion in the center of the park where muscled arms rolled out black speakers on flats accompanied by heavy hands carrying shiny musical gear. Already, a spectrum of colorful personalities were busy pulling packed coolers, pushing baby strollers and carrying purses around shoulders along narrow paths connected to the central pavilion like a busy network of neurons. Overlooking the unrestrained excitement one could only imagine the park- decorated with various colors of tents and canopies tops-resembled candy coated sprinkles decorating one giant mint cake. The weather suspiciously mild with overcast skies foretold of rain to come from a tropical storm in the near future. But for now a few drops of water fell only a few feet from heavy cumulus that seemed to sit too low to the earth. The morning's cooler temperatures hovered around the low 70's just perfect for a day of outdoor music and dancing and a bit of mayhem. The weather was nothing of the gloomy kind but rather a refreshing variant. So get up and dance because this is House In the Park 7.
It takes much man-power/woman-power, experience, skill and prayer to run a public event held at a city public park that will host thousands of attendees from toddlers to the elderly. And HITP is no exception. HITP is that event which looks easy to execute in front of the theatrical curtain but in reality a whole lot goes on behind the sawdust scenes unbeknownst to the naked eye. As with previous years, this year's event started off proper. Recycling bins for plastic bottles and trash bins for everything else were positioned around the park at various locations as well as several water stations that offered complimentary bottled water to keep guests hydrated. A slew of green portable toilet facilities were stationed across the gravel parking lot and cement driveway for those relieving needs. A maintenance crew walked to and fro collecting bags of trash with latex gloves that made sure the park stayed clean. Several volunteers in neon green tees manned the information booth decorated with bulky white donation buckets and first aid kits. Across from the information booth there were merchandise tables selling HITP bags, tees, tanks and compact discs. In front of the pavilion several vending tents sold everything from food items to painted portraits. Walking around the park volunteers in white tees shoved bulky white buckets in faces for monetary donations. The air smelled ripe with charcoal, perfect for summer holiday grilling. Savory scents of smoked meats, intoxicating flowery perfumes, sweet incense and choking cigarette smoke traversed the air with sporadic whiffs of aromatics. The city's law enforcement, men and women, in all blue paraded around with eyes covered by sunglasses that were well equipped and more than eager to battle any opportunity that proved harm's way. All went well until parents lost their children or children lost their parents. Over the microphone, interrupting mid-song and mid-dance, came several repeated announcements prompting individuals to come to the DJ booth and claim their little ones. As if this should be ground breaking news. Further microphone interruptions included; the several vehicles parked on the park's grass that had to be removed before being towed and the loser with the blue American manufactured automobile that parked on a person's lawn whose car was towed. Other than that the event went off without a hitch. Even the late afternoon rain that showered the park with love could not dampen the mood's festivities or keep people away from the celebration of family, food and house music. As African drums played and the rain gods listened, the one giant Family Reunion of alumni and freshmen house heads and non-house heads and soon to be house heads danced and danced and danced thanks to killer anthems provided by all four DJ's; Salah, Kemit, Ramon Rawsoul and Kai Alce.
12 pm
The event's first minister of music, singer/ songwriter/ producer/ DJ Salah worked the musical switchboards with a skilled purview that only a maestro possesses. The dance floor, not the people, struggled a bit to capture the magical energy known to suddenly visit HITP at any given moment. The pavilions makeshift dance floor seemed a bit sluggish to wake as happy feet bounced and pounced to all kinds of drum beats. There seemed to be a slight hesitation, a sleepy silence or a mild tug-of-war to awake the concrete mammoth. The people's feet already in mid-movements danced hard; real hard. Their bodies fought valiantly with bright smiles, arms slashing with all ten fingers waving about, spreading leg squats and stomping feet to syncopated rhythms of soul. Perhaps the floor's sluggishness was due to too much genre jumping from Fela's afro-beat to live act Tortured Soul to disco house crooner Marc Evans; not an easy task for any mixing DJ and certainly not an easy task for dancers to keep pace when dancing to a specific genre. However, Salah's power play came with Adele's, "Rolling In The Deep," a deep house treatment that had people yelling, "We Could've Had It All/Rolling In The Deep" with hands raised in the air and heads titled in the sky.
2 pm
The dance floor was so packed with bumping bodies and humping heartbeats that there was no room to dance and you could forget about walking or dancing your way into the pavilion. People took to the pavilion's wall ledge using smartphones and smart tablets to take digital photos and digitally film the mass amid thick dance moves and swinging arms below. During this photogenic moment, with an invisible whoosh the dance floor breathed new life and the magic that shows up at the event at any given moment arrived and took those on the dance floor by hand and danced with them through a musical journey of sights and sounds. Tapped to usher the journey was the day's second DJ, the world famous DJ Kemit that played a sensory of beats ranging from a broken beat remix by Salah Ananse of John Legend's rendition of Adele's, "Rolling In The Deep" (played for the second time) to Zakes Bantwini's afro-house, "Clap Your Hands" (Club Mix) to Ann Nesby's disco cover of Brainstorm's, "Lovin' Is Really My Game" to gospel house courtesy of Kenny Bobien's, "I Shall Not Be Moved." HITP's most breathtaking and most memorial visual came when the giant Family Reunion packed tight wall against wall within the pavilion jumped up and down like a sea of bobbing bobble heads to Nirvana's, "Smells Like Teen Spirit" (Salah Ananse Remix). Fists punched through the air as heads head-banged as if at an alternative rock concert equipped with a mosh pit. Screams of joy were heard across the park disturbing the wild life as the late Kurt Cobain yelled in angst, "With the lights out/it's less dangerous/Here we are now/entertain us/I feel stupid and contagious/Here we are now/Entertain us". What a sight to see the mass respond with sheer pandemonium of the house music kind. But wait, that wasn't all, because from the wreckage came a shuttering broken beat staccato that segued into the silky vocals of the late great Michael Jackson singing, "Rock With You" the Ezel Remix that had the overjoyed caught up mimicking moonwalks and triple spins. Talk about a posthumous honor for the two legends that have influenced and redefined the sound of music.
4 pm
However, it was the third DJ, House In The Park's founder, Ramon Rawsoul from south- side Chicago that put the house in House In The Park. Be it rather Culoe De Song featuring Thandiswa Mazwai's afro-house killer, "Gwebindlala" to the deep-house stomper, Ceramic's featuring Aisling Stepheson on vocals titled "Broken Dreams" (Tea Party Mix) to Peven Everett's house thumping, "Church" (Sting's International RMX). Mr. Rawsoul delivered and tore off the pavilion's roof when Lil Louis' house classic, "French Kiss" fell from the sky to tortured screams. People lost their minds, held hostage to the instrumental track as the music slowed into a hip-hop friendly groove equipped with orgasmic screams from a horny vocalist. However, looking around it wasn't the vocalist having an orgasm but the massive crowd of sweaty flesh. With eyes closed heads flung around in the air with mouths wide open drooling saliva as people groped on one another; guys with gals, gals with guys, guys with guys and gals with gals. Shirtless men spun around on hands in dance circles showing off tricky feet movements as braless ladies wearing mid-drifts belly danced and dropped to the floor to do squats. HITP turned into a freak fest as the music sped back up to over 120 bpms and the crowd again yelled for more.
6 pm
The event's fourth and final DJ, NYC born via Detroit raised Atlanta resident, Kai Alce's musical concoction consisted of 90% 1970's disco and the rest, 1980's dance classics with a bit of current thrown in for extra flavor like Miranda Nicole's, "Double Life" the sleeping remix fit for a soft-opening at a quant cozy restaurant instead of sitting perched between dance anthems of yesteryear. There seemed to be a premeditated motive to bring the old-skool back to life. This was great but one questioned begged to be asked, "Where was more house music at HITP 7? Anyways, the one giant Family Reunion loved the music played. Either overcome by alcohol or possessed by a high or not, the people lost their minds and danced and danced like panting wildebeest to Chaka Kahn's, "I Know You, I Live You," and even to Rod Stewart's, "Da Ya Think I'm Sexy?" until the sun fell silent behind the pavilion and the covered shelter structure spoke with bright lights. The crowd cheered, "Boo" as the MC announced the event would soon end at 8 pm. After the music filled journey dropped various individuals off at various destinations of quality family time, rekindled friendships, exercise workouts, overstuffed bellies, drunken hazes or to cloud 9 on a music high, it was time to say good night and good bye until the next time.
8:10 pm
The magic that shows up at any given moment on the dance floor stayed around far after darkness fell, far after all the trash was thrown neatly and tucked away in black bags, far after every grill was disassembled and every tent folded away, far after every law enforcement in navy blue called it a day, far after every piece of hardware and software was packed onto flat beads and loaded onto trucks, far after the last heartbeat left the premises and every four wheeled vehicle abandoned the parking lot, the magic even stayed around far after the park's 11 am closing time. It's presence could be felt the following morning on Internet blogs, seen in the smiles of online photos, heard through online videos, spoken through word of mouth statements and experienced through the collective thoughts of memories that would live on.
Photography by John Crooms except for last photograph by John Hobbs