Archive for May 5, 2011
May 5, 2011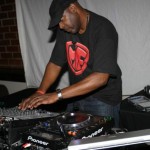 HOT & LOUD
Turn up the volume and let the bass drop. That's what Baltimore's legendary DJ Spen, decked out in a black ensemble of a basement ball cap and MF (Muthafunkaz) tee delivered to Tambor. The venue's walls contracted and the floor vibrated as four count beats gave birth to dancing feet, snapping fingers and raised arms. Not only did the thumping beats pronounce their arrival but so too the room's temperature. The room was sooooo hot that even hell telephoned to complain.
Oh well, all is so when the venue's owners push the regularly scheduled party (Tambor) from its regular residence from the larger air conditioned main room into a smaller side room with non-working air conditioning. But that's another story saved for a later time.
Thankfully, the torrid temps could not thwart MuthaFunkaz production head and Code Red recording label owner, DJ Spen's ambitious efforts from bringing additional hotness to the premises. Spen slayed the incense-scented room with heavy doses of hitting beats of four count bangers with enough bass to rattle the eastern hemisphere or at least, the eastern side of the building. Above all, two facts remained clear the entire night. One, Spen made his presence known and two, he strategically commanded the room to feel the spirit of house music. The song writer/music producer/DJ put a hurt on the mixer's loops and cue knobs to repeat vocals and dub beats in a dizzying effect and a dazzling display. Only a true DJ from the old-skool can work a mixer like that. This time around though, there were no sound distractions or sound interruptions that caused the music to go out during the energetic set.
As the music's volume progressively increased, so did the house anthems that kept coming like the never ending dog days of summer. In between DaJae's reworked, "Brighter Days" (DJ Spen Muthafunkaz Anthem) and a disco dub of Brother Johnson's, "Stomp" the tribesters found hidden inspirational nestled between glorious beats.
Several gospel house tunes reigned during the night that won critically acclaimed praise. "He May Not Come When You Want Him but He's Right On Time" repeated its sweet sentiment of encouragement to hold on steadfast for your blessing is right on time. Then came gospel music's chart-topping sister sensation, Mary Mary with their current offering, "Walking" a soulful house treatment that had people's feet stomping as Pastor Shirley Ceasar meets house music kept the crowd cheering, "Hallelujah." The newest release from U.K.'s Fanatix featuring Assurance, "I Trust You (Psalm 143)" taught the dancers how to trust through difficult times or at least dance through hot heat. However, the scorcher of the night came from BeBe Winans' 1998 epic, "Thank You (Masters At Work Mix)" that caused the people to lose their minds and even got Tambor's Stan Zeff dancing on the floor.
Overall, for those that could stomach the heat, the NRG in the room flew off the meter and combined with the hot temperatures became a fusion of combustible energy. Looped vocals and thumping beats echoed with the kind of intelligence that puts the soul into house music. With upfront beats played at a slap in your face pace, this party was not for the faint of heart or the soft of ears but for those that like to bathe in sweat and hear their music loud.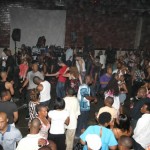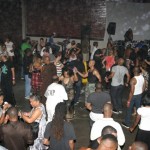 May 1, 2011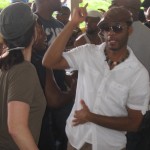 Ten Tips for a Successful House Music Party Thrown at an Outdoor Public Space
Please do not have a wedding in one of the city's largest PUBLIC parks on a Sunday afternoon across the pathway from a music event playing loud music.
Please do not tell park officials/park security to have the music event to turn off their music so that a wedding can proceed as scheduled.
Please do not make the promoters of a music event suffer when they have acquired all proper permits and paid all city fees to hold the music event at the PUBLIC park.
Public parks please do not create some obscure conservation rule which supposedly states that loud music cannot be played in a PUBLIC park until 5pm when the music event was scheduled to start at 12 pm.
Sound technicians please make sure all wires are secure so that the sound won't go out in mid-song during a DJ's music set.
People please make sure you do not step, dance or play with loose wires.
Please make sure other DeeJays do not toggle with or unplug their sound equipment while another DJ is in the midst of playing his/her music set which causes "buzzing and hissing" sounds.
Sound techs please make sure someone knows how and where to plug wires into the music equipment so that the special guest's performance is not further delayed.
Police officers please go and fight "real crime" instead of harassing innocent people having a great time.
Last but not least…
To all parents/guardians/older siblings and so forth, please, please, please, keep watch over your little children at all times so that the event won't have to be interrupted by "lost child" alerts.
Much hard work is needed to throw an event. Hopefully these helpful events will make any outdoor event better.
Cover photograph credit: Glenn Jerome Everette