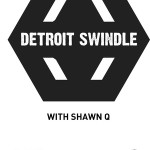 00:23 EST
The Break Up
Sojourn down a flight of stairs into the mouth of the cavernous. Welcome to a basement that wipes grime off its brow. Dark, dingy, and dank. The space has charisma and it speaks with charm. No selfies. No photobombs. No videography. Washington D.C.'s U Street Music Hall forbids.
A golden haze hangs across the smoke-free room. LEDs emit lights of magenta turned emerald that play cat and mice over shadows of ball caps and mops of hair that bop up and down in slow motion. Behind the postured mass are the bodies whose feet spin in circles and feet sway left to right. Missing are the breakers with their cropped circles as they fall to the floor to showoff hand stands with their legs spinning in the air ready to take out a limb. The only danger present is the bar destined inebriated slamming into bodies in motion. "Excuse you?"
A dancer's jazz shoes stick to the ground. The wooden floor is already covered with libations. Within seconds a hooded figure bent over scurries by as a rat in daylight. He is a savior. In his hand, he holds a bottle of baby powder. The floor candy spills across the wooden titles in a snake formation. Thank you Jesus!!!
"Wheeeweeee!!!" A swarm of approval erupts from the mouths of many. A thump and percussions introduces "The Break Up" before a lo-fi punch kicks the drum. In the background the crowd sings, "You stole my love" in repeated refrain. In the foreground the sonics sound muffled. A move closer to the hanging speaker cabinet reveals a low hum. To swindle is to cheat by fraud or deceit and tonight Detroit Swindle is being robbed of a superior sound system.
 A fuzzy recollect
 Detroit is a musical nucleus. The Motor City's influence stretches from Leeds to Amsterdam to Stuttgart. Its grip ignites lads to monogram the "D" into their stage moniker. Detroit Swindle's Lars Dales and Maarten Smeets is such. It is tempting to label the awesome twosome as studio producers first, label owners second and touring DJs third. After all, the Amsterdam natives met in a club, one Deejaying and the other manning the acoustics. Thereafter, their rise to fame is a fuzzy recollect. "I don't know," a release on this label and that label placed them on DJs radars. "Maybe," it was their debut "Boxed Out" that won critical acclaims with its cross-genre pollination. The question begs, is their any originality to this duo or is it all a formula calculated by a sharking music executive to keep pace with EDM trends?
In a relatively short time, 2012 to be exact, Lars and Maarten have swindled their way into the hearts of the underground house music market. They too have built a solid following of house enthusiasts. As evidenced by the panoply of bomber jackets, graphic Tees, joggers and skinny denim bottled in 1200 square feet between two performances stages in the music hall. Onstage behind the music decks, Detroit Swindle are unrecognizable, no hipster hair or pornstache. Their appearance is cloned; both are dressed in black tees and trucker caps, a far cry from their leopard print costumes. In the nation's capital their dress is conservative but not their playlist. Maarten, who plays less, plays the best songs. When he appears center stage, which he rarely does throughout the party, he packs a more soulful punch to Lars' funky tech. He even elicits the speakers to emit a fuller sound as a groovy bass line plays. Under Lars helm the mixing missteps, cold cuts and beat slamming, that later evens out to a steady flow.
Tonight, Derrick Carter should feel cheated more than Moodymann. The soul of Chicago's Southside disco mixed with Chicago's North side's hi-energy represents. Layered beats that stick to the bones and disco loops that uplift outstretch hours of pleasure. Take, KHLHI "Percussions (Four Tet)." The music crescendos and drops but does not annoy. Beats sound interchangeable. This is track music for track heads. Dubbed vocals from soul giants that should play out into full versus with sing-along hooks never materialize. Robbing the crowd of hearing First Choice fully sing "Double Cross" is a punishable offense.             
 02:00 EST
The Magic Hour
 When "Ccccc'monnn' (s)" and "Wwwwill yooou leave with me(s)?" are stretched into long drawls from future politicians who stand several inches shorter than their blonde-haired counterparts, their departing time has arrived that makes way for the experienced dancers to play.   The magic hour begins.
There dances the good ole' buddy, a former dance instructor, retired night-lifer, who throws his arms into the air and wobbles his legs as if paying homage to Janet Jackson, to his left a house dancer dressed in all black, sticks her derriere out and twerks before she sidesteps to the right as her friend shakes hands with an out-of-town stranger and says," You've got dancing skills."
Their bodies groove to Chicago's K-Alexi's "The Dancer" where the Ian Pooley Remix drops to 124 beats per minute of minimal thumps and spacey grooves. Gwen McCrae's "Keep This Fire Burning" (The Revenge Need II Edit) emerges as the party's hell yeah! The feel good slow burner lifts dancing feet off the floor but only as far as the inferior sound quality allows. Detroit Swindle continues their pilferage on Heist Recordings, their label imprint, with its latest release from Barme & Hamo's "The Parish Rumors." Finally, Lars pay homage to his group's namesake, Detroit's Terrance Parker on "Love's Got Me High." A song and sight most appropriately illustrated by the guy in his wheelchair swaying his torso around in circles, flapping his arms and hands in the air with his head cocked towards the ceiling. His visage says it all. "This is the power of house music." A fact that will attest Detroit Swindle's staying power for years to come.
words by aj dance