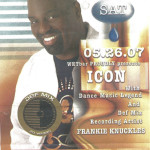 Frankie Knuckles
I dreaded the day when I would lose the Godfather of House Music. My heart suggests I am selfish to hold on to a life as if that life belonged solely to me especially when that life was not mine to begin with. Although I can't possess another's life, I can cherish their treasure left behind. So I'm told.
I wish this could be another blog entry of epic proportions. Perhaps this could be a review of Frankie's 59 years young birthday bash. A spectacular where David Morales and Louie Vega provided the fireworks at a club on Chicago's Northside on a blistery January, Sunday night during MLK weekend. I wish this was a moving review of Frankie's long overdue return to Atlanta. Sadly this is not. So I try to type in mere words what made Frankie my Superman of house music, a sort of sentiment to comfort my dancing feet that mourn.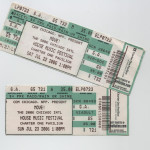 Frankie Knuckles commanded a thirty year old dancer to drive ten hours north to the birthplace of house music to attend a two day music festival titled MOVE. The first ever Chicago International House Music Festival featured a list of up and coming DJs along with the who's who of Chicago and NYC house music markets, all friends of Mr. Knuckles. Everyone gathered at the Charter One Pavilion on the sandy shores of Lake Michigan to experience a relatively unknown DJ from Africa, DJ Glenn Lewis open the event, to see Barbara Tucker parade around with her entourage, to hear Dajae wail, "Brighter Days," to dance in the rain to Maurice Joshua playing Mary Mary's "Shackles," to witness Frankie's longtime manager, Frederick Dunson play the role of P.R. to finesse, to gawk at Jamie Principle sing and play his piano, to be blindsided by Lady D flashing her thousand watt smile as she crafted her funky house imprint, to experience Danny Teanglia close the first night and watch David Morales wolf potato chips while DJing the second night. The dancer stared at the stage awestruck. His two eyes sparkled underneath the starry night. He had arrived. His house music hero would soon take the main stage.
Fourteen years earlier, my young and impressionable ears discovered a new house sound played on commercial radio. I was a fan of house music and commercial house music remixes. Madonna, Michael Jackson and Mariah Carey belted over manufactured four-on-the-floors, courtesy of recording labels. However, this new house sound arrived on radio playlists dressed in a tux rather than Karl Kani. The sound had class. Piano riffs, warm chords, orchestrated strings and a Hammond B-3 all sounded like Holy Ghost music made for Saturday nights. And I was thirsty for more. I soon discovered the sound's architect while reading the linear notes on back of a CD maxi-single sleeve.  His moniker, Frankie Knuckles, his crew, Def Mix.  I became obsessed; a Frankie feign. I was Frankie this and Frankie that. I even dreamed of working with the guy in a recording studio remixing this song and that song.  At the age of sixteen, this Midwestern boy had not-a-clue of club land-to me The Sound Factory was just a remix title-as the skeletal structures of the Warehouse and Power Plant stood only four hours away by automobile.
You see, I sneaked into Frankie's threshold through transmitted airwaves. Smooth Jazz stations played "The Whistle Song." BET played the video. "Tears" played on late night weekend radio mix shows.
Thankfully, Frankie's remixes were released at speeds faster than compact discs were pressed. Who can forget the first time hearing the Sounds Of Blackness "The Pressure (Part 1)" (Classic 12 Mix)? My favorites; Lisa Stansfield's "Change," Vanessa Williams' "Comfort Zone," En Vogue's "You Don't Have To Worry," Chante Moore's, "This Time," Luther Vandross and Janet Jackson's "The Best Things In Life Are Free," Michael Jackson's "Rock With You," Quincy Jones' "Stomp" and Toni Braxton's "Un-break My Heart." Even Michael Bolton and Ace of Base could not escape Frankie's re-touch. His music would be highly-regarded and heavily revered by the Gramophone Recording And Modern Music with a win in the Remixer of The Year, Non-Classical category. At the close of the century, the Def Mix sound defined 1990's house music and Frankie Knuckles emerged as, "The Godfather of House Music.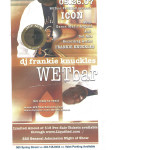 On May 25, 2007, my last day of working with obnoxious eighth graders, I received the best gift that any Frankie fan could ever receive, a night with Frankie Knuckles. The Godfather was scheduled to make a rare appearance in Atlanta. I took this as God's blessing for having to put up with rudely adolescents for an entire school year. That night, I dressed in head to toe white. After a lengthy debate with myself, I left my white fedora in the car. I figured I would have no need for the head piece. Fail. After paying the twenty dollar door fee I walked into the night club. My eyes bucked at the spacious almost empty wooden floor. I checked my phone, 11:00 pm. Still early. Frankie was already in the mix, painting the landscape with his signature sound. What a treat, no opening DJ but four hours of unadulterated Frankie. My ears fell victim to the music. Kim English singing "C'est la Vie" (Scott Wozniak Mix) aroused me to walk through the foyer's door and dance straight into the arms of the dance floor's embrace. I felt loved!
Shakira and Beyonce sang "Beautiful Liar," The Pussycat Dolls whined "Stickwitu," Marc Evans crooned "The Way That You Love Me" (Dim's T.S.O.P Version), DJ MeMe provided the disco on Fish Go Deep's "Cure and Cause" while Kenny Bobien declared "I Shall Not Be Moved." Frankie had that knack of mixing fragments; the commercial with the white labels, house with disco and the sacred with the secular into one cohesive catalog, much like his remixes.
The minister of music stood perched in the DJ booth high off the dance floor. You could get a nose bleed staring up that high for too long. Being a seasoned professional, Frankie drew the dancing mass into an act of intimate engagement. Be it alumni house heads sporting "I heart NY logos," Chicago's Southsiders head bopping, current B-boys spinning and former rave girls twirling, blue-eyed blonde haired gays yelling, and big mommas swinging weaves, everyone danced to Frankie's "The Whistle Song" with bright smiles.
At ten to three the music stopped. Surprise! Frankie's devotees received a heart attack; a chance to meet and greet the amiable legend. My moment had arrived. I shook my hero's hand and all I could muster from the depths of my heart was a shaky, "Thank you for coming to Atlanta."
What Frankie Knuckles Did For Me
Frankie was there to comfort me after MJ's death. On July 3, 2009, days after MJ's tragic news shocked the world, I ventured to Chicago. I contemplated the trip. I had no funds, no prospects and little hope. Besides, I was in no mood for dancing, loud music or MJ tributes. However, I felt compelled to trek east on Interstate 90 to the Green Dolphin's Boom Boom Room. As usual I arrived early. So I waited outdoors. I listened to the sounds of muffled bass ricochet off the inner walls. "Ba Da Do Do Do, Ba Da Do Do Do." I recognized the Eddy Grant sampled bass line playing inside the club. As a teenager, I had played the same bass line over and over again.
I paid the door fee and entered the empty foyer. Frankie was playing Michael Jackson's "In The Closet." Here I am in shambles and not wanting to hear any of MJ's music. Yet, Frankie welcomed me into the club with his very own Mission Mix. Talk about chivalry. Chills surged up my spine. How could I not return the favor? So I willed my feet to shuffle from right to left. I stretched my arm muscles allowing my body to warm up to the knocks and slams of closet doors. Frankie had got the best of me.
If that sneaky move weren't enough, hours later when the room swiveled in circular motion and the brick walls dripped perspiration; Frankie would floor me. He played "You Are Not Alone;" the eleven minute MJ tribute brought the house down with tears. To hear the Godfather of House play his Franctified remix, a befitting tribute, to the King of Pop was cemented in my memory forever.
I left Green Dolphin forever changed. I proclaimed that I would make it out of that challenged-filled season a victor. See, this is what Frankie did for me. Frankie created and played the music that uplifted me to higher heights, he called my spirit to soar with the angels and he challenged my feet to dance a different dance.
Through the years, I waited for Frankie's return to play in Atlanta. In hindsight the hope kept me dancing through the years. I often thought, "Soon Frankie will yet again bless this city with his most precious gift, house music." After all, Frankie said, "I love playing in Atlanta. I will play here again." That's what Frankie told me that special night when I first met him years earlier. Sure every DJ promises to play in your city, again. Naivety believes this promise comforts fans; the jaded believes a DJ is really saying "fuck off" and "get outta my face." But no, Frankie was not the latter. The Godfather was more humble than god-plex. He was more approachable than distant. He smiled when he had reason(s) to frown. Frankie could have turned his back and gave you the hand. But no, his best attributes were that he never gave up on house music and he never gave up on you. After the recording industry went digital and their calls for remixes stopped, he crafted his Director's Cut guise with fellow DJ/producer/writer/remixer Eric Kupper. He churned out purchasable downloads of remixes and original material of Whitney Houston's, "Million Dollar Bill," The Jackson 5's "Forever Came Today, Lil Louis' "Fable," Candi Staton's "Hallelujiah Anyway," B Slade's "Get Over U," and Inaya Day's "Let's Stay Home." Even after facing medical conditions that would have wheelchair other DJs into retirement; he toured the world. Frankie pumped his blood into the heart of soulful house music until the very end. Frankie was that man. The man that I will never have the pleasure to see or hear play live again.
Words by AJ Dance