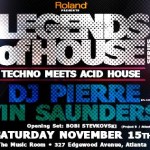 Legends of House
Legend 1: Kevin Saunderson
 23:30
 "You can't smoke cigarettes in here."
"Yes you can."
"But I really thought you couldn't….."
"Yep.  You really can."
"C'mon you are killing me."
The smell of ash hangs low and thickens the air.  Had not some city ordinance previously banned killerates from public places?  Funny the city bans everything else.  Besides, what is the allure to smoke cancer sticks while grooving to music?  Do patrons really need a puff to enjoy the sounds, especially the sounds of house music?  This is the most unholy matrimony.
"Actually, you're thinking of the "drum" crowd that doesn't smoke when they dance here." 
"Hmmmm, " Research on second-hand smoke and lung cancer concludes the tiny killers should be banned from all public places.  When smokers are thirty years of age and over carcinogens docks years off their life.  Plus it doesn't make them appear any more hipsters.  One might say, I have the right to die as I choose, however do not jeopardize the right of life of those around you.  Ever notice the one chain-smoker that follows your every move like a predatory stalker?  The one that pulls out the stick and puffs right into your personal space, no matter where you sit, stand, or dance.  Ever experience the perfect moment when you reach dance epiphany and suddenly you, "Cough. Cough?"  Do everyone a favor and smoke outdoors.  
On one hand, one can argue that if you don't like the gross rules of the nightlife then don't partake.  However, the choice is not so cut and paste when a techno music legend makes a rare appearance in town a must-attend event.
 24:00
"Made In Detroit" tees, plaid shirts and black-rimmed specs canvas the room.  College students fist pump adjacent parents: sparse faces of ecru and olive dot among vast pallid visages.  Behind a black column, a bearded hipster sets his glass of liquor on the floor.  Underneath the smoky haze and pulsating strobe lights that leaves the floor green, a sea of pearly white pupils stare at a stage.  Missing are electric guitars, live drums kits, synths and a hairy mop with plucked lips screaming into a microphone.  Instead two CD players, a mixer and equalizer are the instruments of choice.  Behind the arsenal stands a figure-tall, dark, and dressed in black.  He is who everyone in attendance is ready to experience. 
A four-on-the-floor thumps at full volume before disappearing into the dark.  Warm pads springs to life.  Like the prodigal son, classic house comes leaping home.  Many appear, by the lack of fist pumps, to be vaguely familiar.  Only the dancing is fully engaged.  Time travels back to baggy pants and PLURs: the bygone years of Generation X's rave soundtrack.  If classic chords beckon feet to move, warm vocals commands mouths to sing,  "Your Love."  Mouths mimic lyrics, as to say, if memory serves correctly, I used to know every word to this track.  The legendary DJ opens his musical mantra with his back catalog that proves he shines with the great.    
Lest you are unfamiliar and fail to understand the significance, let us dust off the pages of techno music's biography.   Kevin Saunderson was born, and up to age 9 bred in Brooklyn, NY.  His family then traded sights of the Brooklyn Bridge for the Ambassador Bridge having moved west, Midwest, to suburbia Detroit.  Kevin's high school years proved pivotal as he connected with music enthusiasts Juan Atkins and Derek May without knowing they would soon craft the blueprint for an underground movement.  After a short stint as a college football player, Kevin departed sports to pursue his love music.  Thus, he became an in-demand DJ who traveled the world.  The label imprint KMS-Kevin Maurice Saunderson-established him as a burgeoning music producer of a distinguished electronic camp.  It was his group, Inner City that created a cult following with vocal techno "Big Fun" and "Good Life" fame. Fast forward to present day, Kevin Saunderson is revered as one of the founding fathers, pioneers and pillars of techno music. 
Kiddie-corner the room the bald DJ stands hunched over shiny hardware.  His black tee brushes against knobs and faders.  His fingers flip CDs, press buttons, and slides switches in a single take. The maestro preps to deliver his best scenario: a repertoire of genre-defining sounds. Deep house sojourns on The Journeymen's "Close to Me", deep tech on Culoe De Song's "Y.O.U.D.," vocal house croons, "I Need You" that stirs the crowd to realize they need Kevin Saunderson just as much, Andrez "Based On A True Story" (Dub Mix) stomps across the cement floor, "Chicago" that Northside funky house sound causes bodies to writhe in jackin' jolts, "Detroit," Kevin's hood, as in Detroit Techno plays at 135 BPMs and higher as Ovenous & Atjazz's "Soldiers" speaks over marching drums.  Kevin takes a step back.  He beams a blinding smile.  He is having too much fun.  His stacked frame sways from left to right to his mental metronome.  Suddenly the sounds of recognizable synths sweep the soundscape.  It's the song that made Kevin and Inner City household names "Good Life," (Techno Mix) a worthy dose of tech-soul that closes out the set.
Scores of hands ripple the air as a body triple spins and jump upwards.  Not one soul is musically immune to bouts of satisfaction.  This is the music that beckons discerning electronic music lovers journey from Florida and trek from Nashville.  Local neo-technoites and EDM enthusiasts were schooled on the humble beginnings of a global massive front.  The fifty-year young DJ educated the crowd.  In return he receives a heartfelt dancing ovation with thundering handclaps. 
Meanwhile the drink that the bearded hipster previously set on the ground falls sideways on the cement.  Pieces of sharp glass swim everywhere.  Aw great, a sticky dance floor.  Damn, no one thought to bring the baby powder.
Check out Legend of House 2: DJ Pierre
Words by AJ Dance