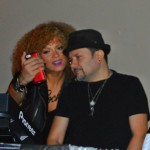 LOUIE VEGA & ANANE
Part 1
Black Curtain
There hang long black drapes in one corner of the room, next to the DJ stage and behind the global bazaar. 
A steady stream of bodies treks from out the curtain.
Gofers fetch drinks from the bar before they disappear back into the curtain.
A group of hourglass curves exit the curtain with glowing smiles.
Those left on the outside watch curiously.                                           
Something goes on behind those large black drapes.
You can feel the energy.
Is this some makeshift private VIP, roped off from the common soul?
Or a moon ritual?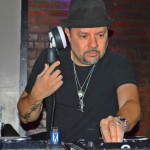 Always, Louie Vega brings the unadulterated soulful house music sound that capsizes at 126 beats per minute.  Foot heavy four-on-the floors slap the faces of dancers.  His sound is not for the faint.  Or for the soft of feet that prance on the tips of toes as ballerinas.  These days, ears have to be conditioned to tolerate stuttered 808's as hamstrings have to be fully stretched to endure the wear and tear that shall soon follow.   In all, this is Louie's tribute to his old school roots, when late 80's house and early 90's house ruled.  His momentum takes you back to the Devil's Nest in the Bronx.  A time when vocal house pit the Jacksons against First Choice.  Anyone for Lynn Lockamy?  Inaya Day?  Duane Harden?  To fully understand Louie is to fully understand the sum of his parts.  Vega Records.  Roots remixes.  EOL essentials.  Fania T-shirts?  Louie is not shy to spotlight his ethos.  Louie Vega revolves around Louie's world. He is a heavyweight in the industry, a revered leader among his peers.  When Louie speaks, people actually jot notes.    People just don't happen to dance to Louie Vega in the mix.  They are subconsciously pulled into his black hole.  Rather or not education on the dance floor is your dogma.  You will be schooled.       
23:00
Aww, look, the darling couple sits on stage.  His body is pinned against hers.  Their body language speaks love.  She pulls out her smartphone encased in candy apple red.  "Click."  The selfie captures two loving souls.   That's cute.  However, the crowd is ready to experience what they dropped Gs for. 
Like a swan's tears dropping into tranquil waters, Japanese violinist, Chieko Kinbara's dramatics bleeds all over Josh Milan's heartfelt "Just Like Love."  The Timmy Regisford and Adam Rios tropical beat builds to a muddled rise.  The train is running off the tracks.  Can anyone help?  To the rescue he comes.  Where?  To the right of the stage.  His two eyes peep over three Pioneers.  His waist and upper torso bends over the CD players.  The man is dressed in a black tee and sporting his signature stingy-brim fedora.  A tattooed tribal arrow points towards his hand that turns shiny knobs, while his right hand cups a silver earphone.  His stance commands all attention.    
A few facial visages appear stunned.  Perhaps the sight of their idol standing a few feet away smacks them.  Or is it the beat?  The "oonz, oonz, oonz," clocks at high speeds.  All courtesy of a power kick drum, hissing snares and a heart pounding bass thump.  Bodies erk and jerk.  Inquiries of confusion contort eyebrows.  Smoky vocals sing that adds additional confusion.  The beat overpowers the messenger.  Louie understands.  He adjusts the controls.  Fail.  So, two heavyweights move a monitor closer to Vega's post for greater sound definition.  The light bulb idea works.
"I was At The Club, somewhere near the bar." Lynn Lockamy never sounded better in surround sound.  Her accappella plays over the same sixteen counts that startled minutes earlier.  The crowd gets it.  They sing, "When I saw that man."          
Somewhere the secular intersects the spiritual.  A juxtapose that possesses one dancer to bolt up the stage and back down stage in nanoseconds.  "Can I preach to you?"  Arms thrust into the air.  Hands beat speakers.  Mops of hair wiggle from side-to-side.  People are short of falling out in the spirit.  Whatever Louie laced this "Can I preach to you?" acapella, sets the people free.  Earlier hesitations of premature expectations are now fully abandoned.  The people melt in the hands of Louie.  The room is ripe and ready to receive. 
"Hey, hey, hey, hey."  A familiar voice beckons from the audio's output.  "It's Not Over," sings a First Choice soundclip.   The score's highs pull to the fore, the bass drops into oblivion that leaves the mids pitched against white noise.  Orchestrated strings pull the melody back into existence.  A moody electric guitar speaks with a twang.  The disco re-edit is the Gamble and Huff produced Jackson's "Show You The Way To Go" vs. MFSB "The Sound of Philadephia" that sucks the room right into Louie's black hole.
Mr. Vega is eager to show off his universe.  His world is full of stars.  Louie Vega staring Duane Harden, Louie Vega staring Bucie and Louie Vega staring Julie…the list goes on and on and on.  God love him.  Louie is always staring someone. 
If Louie had to play one summative oeuvre it would be Louie Vega starring Duane Harden's "Never Stop."  The Sunset Ritual Version lyrically laced with positivity uplifts the room to a higher state.  When lead vocalist Duane Harden backs Cindy Mizelle to sing "Lift You Up," the atmosphere erupts with explosives.  Louie could pack his crates, grab his wife and make a run for the door.  The crowd would never know they were robbed. 
Thankfully, the GRAMMY award winner proves why he is the hardest working man in soulful/deep/house music and continues to drop hits.  He plays his Piano Dub of the Native Sons "City Lights."  Don't get too comfortable with Inaya Day yelling, "Hey, Hey."  Louie throws a curve ball.  When the outro bass line filters to low-fi, in comes Louie's Factory Mix Part 1 for even more hi-fidelity bass trickery.  This guy won't even stick to playing one of his remixes: he goes in to play two of his remixes.        
A key in F-minor bumps over 125 BPMs.  Is it filler time?  Louie allows the crowd to breathe.  After all, a professional knows not to wear his or her guests out in twenty minutes.  So he cools the school with the 'Princess of House' on "Angels Are Watching Over Me" his Vega Old School UN Instrumental.    
"Ladies and Gentlemen," The ever recognizable accent of Tambor's founding father DJ Stan Zeff announces with microphone in hand.  "Let's give a warm Tambor welcome for the second time to….. "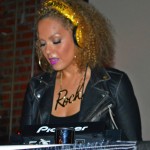 The force of Anane does not pull in the opposite direction but rather digs deeper into the waters that birthed her voice of ancestral soul.   Her Cape Verde, two tiny archipelagos to the left of the Motherland's shores, roots is her narrative.  At one point growls and chirps resonates through the room.  At safer beats per minute, one dancer feels compelled to join the flock rushing center stage to lay eyes on the DJ. 
The male and female species are rarely treated to lay eyes on a Glamazon.  Let alone a Glamazon DJ.  A simple gesture as pulling her sandy blond locks back into a tail captivates the room.  The "Bem Ma Mi" singer radiates a glow that blings brighter than the 'Rock' gold chain hanging around her elongated neck.  Voices whisper, "Beauty is only skin deep."  But in Anane's case her God give beauty is layered not linear.  Not one to rest solely on her symmetrical cheekbones, the singer, DJ, wife, philanthropist and most recent entrepreneur proves she has skills.  The music she plays is self-evident, realized and afro driven.  A fact her partner-no, not Antonello Coghe-acknowledges in eye distant.  A head nod to her hubby at work provides approval for him to chime in the fun.   The two stationed at polar opposites of the mixing spectrum align their chakras into one cohesive body.  Impressive, breathtaking and sometimes all over the place is what the two display.  A husband and wife DJ tag team.  After all, Louie and Anane are house music's Jay and Bey.      
"Flowers bloomin, mornin' dew and the beauty seems to say…..A velvet voice sings.  "It's a pleasure when you treasure all that's new and true and gay."  Rhythm and Blues lovers recognize the voice they grew up with as Luther Vandross.  Then from nowhere, Glow's "Change of Love" goes from straight disco to proper Jersey house.  Dancing feet keep pace for the second verse.  Until a voice announces, "We gon take it back." 
Where Anane stops:  Louie starts.  Electric synths jabs staccato punches.  The volume slowly ascends.  The ears of elders recognize the ear candy.  "Say are you happy" an angelic voice asks.  Feet stomp the floor.  Arms thrust into the air.  "Have you been down to the club that the worldly people love."
Perhaps this Moon Ritual is not the "Club Lonely (Lonely People)" that Lil' Louis envisioned.  Black, brown, tan, yellow, beige and peach faces dot wall to wall.  People are adorned with their spouse, people whisper amongst friends and even the single dance hand in hand.  No one appears to be lonely.
A few counts later the medley switches tides but stays true old school.  "Can You Hit It/Hit It," a powerhouse vocal repeats.  Again the crowd goes AWOL.  "Brighter Daaaaaaayyyyy."  Singer Dajae wails into the air for an extended frame on the Cajmere's Underground Goodies Mix.  Lads take note a professional not only knows the right song to play at the right time but the right remix to play of the song. 
Earth People's "Dance" floors feet and silences every criticism.  "I Got Something for your mind, your body and soul."  A First Choice sound clip brags.  The party man does not stop there he continues throwing down classic heat from Chitown to the 5 Boroughs.  But around the corner lurks eyes that glow with fire in the dark.  A force flies from the speakers.  Knees crash onto the concrete.  Acid house spews its vengeance.   
BLACKOUT.  One dancer is stretched out between a speaker box and a railing. 
Visuals & Words by AJ Dance